Puppy Training
We specialize in early puppy training and socialization. Train your dog from 8 weeks to 5 months – prevent problems before they start! This is your dog's prime learning period – when the brain is like a lump of clay waiting to be moulded.
Adult Dog Training
Don't worry, it is never too late to teach an old dog new tricks. We offer courses for dogs of all ages - no dog is too old to learn good manners.
How can we help you and your dog?
Positive, effective real life training for dogs and owners.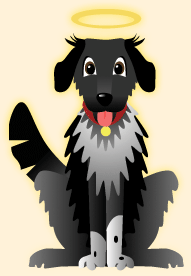 Does your dog jump so much that people are afraid to visit you?
Is your dog remodeling your house with his chewing?
Does your dog drag you down the road on walks?
Is your puppy nipping harder than a baby piranha?
We offer simple solutions to common dog behaviour problems such as: nipping, chewing, housetraining, barking, focus and control, jumping up for greetings, begging for food, pulling on leash, come when called and much more.
Doggone Pawsitive teaches you to manage your dog to prevent problems and sets you and your dog up for success. We don't just train your dog – we train you also!
Private Lessons & Training
We also offer private lessons and behaviour modification for problems such as: guarding food or objects, aggression toward people or other dogs, fearful or anxious behaviour, noise phobias, separation anxiety and more.
We can work with your dog and family in private lessons or come to your home and train your dog for you with our new Doggy Nanny 9-1-1 service.
Doggone Pawsitive has more than 5,000 successful graduates.
We are your experts in puppy and dog behaviour.
Ongoing Classes:
Perfect Puppy Kindergarten
Older Puppy/ Adult Good Manners
Level 2 Good Manners Out in the Community
Treibballl - teaching your dog to herd giant exercise balls into a net or pen
Rally Obedience - a mix of more advanced obedience and agility
Tricks - fun stuff for you and your dog
Tracking & Nosework
Freestyle - dancing with your dog
Pet Therapy Preparation - teaching you and your dog the skills to do hospital and school visits
Focus & Control - for dogs needing work on focus around distractions, dogs, people
We hold classes in central Moncton throughout the year. All classes are rolling enrollment and on a flexible attendance system so you can start any time and you have maximum flexibility. Unlike classes on a rigid schedule - you attend as your schedule permits within a set block of time. Call or email today for more information.
Our Experience + Knowledge + Skills + Passion + Commitment
= A Doggone Better Behaved Dog and a Happy Owner